Vegans and non-vegans alike are looking for plant-based protein powders to help meet nutrition needs, build and repair muscle, or replace traditional meals in a busy lifestyle. When it comes to plant-based protein powders, it can be tricky to find one that not only tastes great but also mixes well without being chalky/gritty or just plain gross (you know what I mean if you've been around the protein powder world for any length of time!). So today, I wanted to share with you my top 10 favorite plant-based vegan protein powders that I recommend to clients and also rotate through myself depending on what I'm looking for. Check it out and let me know which plant-based protein powder you love!
What are the Benefits of Plant-Based Vegan Protein Powders?
Plant-based ingredients tend to be easier to digest than animal counterparts without the tendency to promote inflammation. Vegans and animal lovers (perhaps like yourself) can rejoice because no animals are harmed in the making of plant-based protein powders. Also, plant-based protein powders are much more economical on your pocketbook AND for the environment. Meat and animal based foods require more land, fossil fuels, water, and resources to produce than plant-based foods. With increased population, plant-based diets are not only more sustainable but plant-based diets have been shown to reduce the risk of diabetes, cardiovascular disease, and some types of cancer. So, choosing plant-based foods including a plant-based protein powder to help you meet your nutrition needs while promoting health and a positive impact on the environment only makes sense.
What should I look for in a Plant-Based Vegan Protein Powder?
That's a great question and ultimately depends on any specific nutrition goals you may have or any intolerances you have to consider. For example, many vegans or people who choose to eat predominately plant-based have a soy or gluten intolerance. Now, if you're avoiding soy or gluten simply because that's what media and culture has conveyed to you, I'd be happy to point you in the direction of resources to clear the air as both soy and gluten are a part of a healthy diet unless you have Celiac, gluten sensitivity, or an allergy for the most part.
The amount of protein can vary in plant-based protein powders but generally there is about 20 grams of protein per serving. Depending on your needs, you may only consume a half a serving at a time as you may not need this amount but I would aim for plant-based protein powders with 20 grams of protein per serving.
Consider the other ingredients. Again, depending on your overall goals, you may want plant-based protein powders with few other ingredients or you may opt for more of an all-in-one meal replacement powder. Either way is fine, but know that some plant-based protein powders have more or less added ingredients and I've included some good options for both in the top ten list below.
Sodium content. I've seen the sodium content on vegan protein powders range from 200-600mg of sodium per serving. Be mindful of the amount of sodium as most of us do not need 500mg of sodium per serving especially if the protein shake is more of a snack than an meal. Now, if you are consuming the protein powder post a super sweaty workout, that's perhaps a different story but many of us consume far too much sodium and protein powders tend to be a hidden source. All of the top ten protein powders provided are below 440mg of sodium per serving, which is a good goal to stick under.
Note: When you click on any of the images associated with the ranking 1-10, you will be redirected to view the product on Amazon.
10. VeganSmart Plant-Based Vegan Protein Powder by Naturade, All-In-One Nutritional Shake
What we love: VeganSmart plant-based vegan protein powder is soy free, gluten free, and a complete protein with all essential amino acids but also supplies a host of other super foods and prebiotics to make it a complete whole food shake powder versus isolated protein. It tastes great and I love the added Omega-3 fatty acids and digestive enzymes. It tends to be more cost effective than bigger brand plant-based protein powders. Check out Vegan Smart on Amazon and see what I mean!
Considerations: While there's stevia included, it doesn't taste like stevia (and I hate stevia). Also, because it's more of a meal replacement, there is a considerable amount of shake powder volume for a serving. It's not chalky, but just thick and a lot of volume – so, pro tip: use a half serving and it'll be less overwhelming plus last longer!
9. 
Sunwarrior – Classic Plus, Vegan Protein Powder with Peas & Brown Rice, Raw Organic Plant Based Protein, Vanilla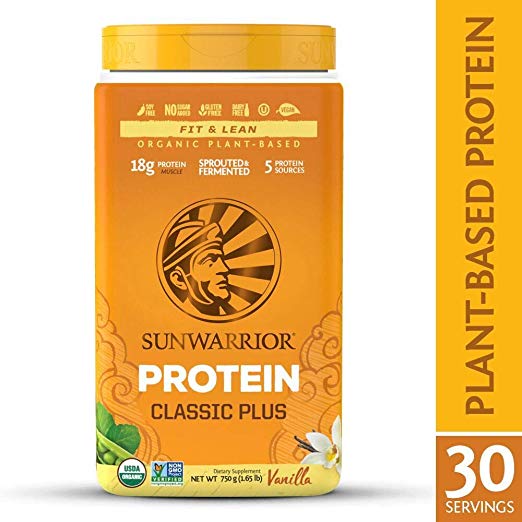 What we love: Sunwarrior has been making quality vegan vitamins and protein powders since 2008 and I've been a fan for awhile because Sunwarrior plant-based protein powders are raw, soy free, gluten free, and organic. It's an easy to digest, clean protein source packed with superfoods like quinoa and chia seeds. Aside from a great product, their scoop is built into the lid so you don't have to go digging for it anymore!
Considerations: This is a reformulation of their original product. The original seemed to blend better into water/non-dairy milk but this still does a decent job and in something like a smoothie, it's just perfect. No added filler superfood ingredients, just protein packed foods for 18 grams of protein per serving.
8. Vega One All-In-One Plant-Based Protein Powder, Berry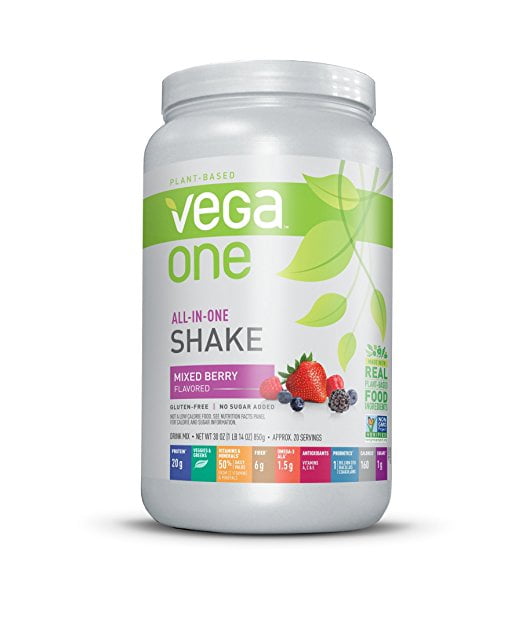 Considerations: Vega has been making protein powders for a considerable length of time and their products are some of the most popular on the market but I find this powder to be a bit chalky on it's own but great in a berry and plant-based yogurt smoothie with ice and almond milk!
7. Orgain Organic Plant-Based Protein Powder, Creamy Chocolate Fudge
What we love:
The creamy and dreamy decadent chocolate taste of
Orgain Organic Plant-Based Protein Powder (find it here on Amazon)
is heavenly without being chalky or leaving an aftertaste. Orgain is gluten free and soy free plant-based protein powder that makes it easy to get in an additional 21 grams of plant-based protein while tasting great.
Considerations: It's just the protein blend and without all the other superfood additives compared to other products, you won't find as many vitamins and minerals.
6. OLLY Protein Powder, 18g Plant-Based Protein
What we love:
OLLY manufactures vitamins and other plant-based supplements, but what I like about thee
OLLY plant-based protein powder available on Amazon
is that it's simple and straightforward with non-GMO high protein whole foods (peas and flaxseed) that provide protein and omega-3 fatty acids. Both flavors are smooth without the grit.
Considerations: This vegan protein powder comes in a smaller container than most which may be great if you don't plan on using it all the time or may mean that you will need to replace it more often.
5. Manitoba Harvest Organic non-GMO Hemp Pro Fiber Plant-Based Protein Powder
What we love:
 Hemp protein is THE most easily digestible plant-based protein making
Manitoba Harvest Hemp Pro Protein Powder (I like to buy on Amazon)
a great choice for anyone who suffers from GI upset. Hemp is also a great source of plant-based iron (an important mineral for vegans and plant-based eaters to be mindful of) with 35% of your iron needs in a serving of Manitoba Harvest Hemp Pro plant-based protein powder.
Considerations: Hemp has an earthy undertone taste and will make fruit smoothies taste earthier but still amazing (I think).
4. Amazing Grass Organic Plant-Based Vegan Protein Superfood Powder in Chocolate Peanut Butter
What we love:
Amazing Grass has a lot of really high quality vegan food products and plant-based protein powders but this vegan chocolate peanut butter
Amazing Grass Plant-Based Protein found on Amazon
is out of this world. It can be an all-in-one vegan meal replacement with veggies, fruits, and 20 grams of complete plant-based protein.
Considerations: If you don't think you'll like this flavor/variety, I encourage you to try another Amazing Grass product as they have something for everyone no matter what your taste buds or nutrition goals are!
3. Garden of Life Greens and Protein Powder – Organic Raw Protein and Greens with Probiotics/Enzymes, Vegan, Gluten-Free, Vanilla
What we love:
The
Garden of Life Greens and Plant-Based Protein Powder found on Amazon
has protein and complete nutrition from whole foods you can see in the ingredient list plus digestive enzymes and probiotics. Probiotics are not included in most plant-based protein powders but I find it's a nice addition to help support overall gut health as we know a healthy gut microbiome supports many areas of our life.
Considerations: A bit more on the pricey end for the size of the container compared to other brands but worth it in my opinion when you look at the superior ingredients and nutrition provided with the Garden of Life Greens and Protein Powder.
2. KOS Organic Plant-Based Protein Powder – Raw Organic Vegan Protein Blend in Vanilla
What we love:
The
KOS vegan protein powders available on Amazon
are available in large tubs or single serving packets which make them a go-to for work trips or family travel when you never know when you may need a vegan protein boost to help sustain energy and meet your nutrition needs. The KOS plant-based protein powder contains just enough protein (21 grams per serving), digestive enzymes, and omega-3s without a bunch of extra ingredients that can make plant-based protein powders too thick.
Considerations: Honestly, the only consideration is whether you want to start with just your toe in the water with the smaller individual packs or jump on in to the deep end with this protein tub of tasty goodness.
1. Alpha Vegan Plant-Based Protein With Glutamine & BCAA'S
What we love:
Alpha Vegan Protein Powder is best found on Amazon
is a newer plant-based protein that is bound to find it's way into vegan (and non-vegan!) homes soon as it's insanely easy on the stomach, tastes clean and light without any grit or texture. It's incredibly smooth with 21 grams of plant-based protein per serving while remaining gluten free, soy free, and non-GMO. The best part is that Alpha Vegan contains branch chain amino acids and glutamine to help repair and maintain muscle.
Considerations: It's a bit on the pricey side compared to other plant-based protein powders, but the high quality ingredients and unparalleled nutrition has a way of speaking for itself.
Whether you're looking to promote lean muscle, satisfy hunger, or provide nourishing energy, plant-based protein powders are a great option and I would highly recommend checking out these top 10 best tasting and totally healthy for you plant-based protein powders. As a dietitian and fellow vegan, these are not only the protein powders I recommend but the ones I use myself. What is your favorite plant-based protein powder? Or which one are you most excited to try?!
Top 10 Plant-Based Vegan Protein Powders